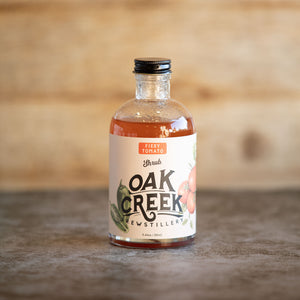 FOR COCKTAILS AND MORE!
An old-fashioned sweet-tart fruit syrup made with the abundance from our organic heirloom garden. The spicy jalapeños are well balanced with the sweetened tomatoes. This shrub is great mixed into a bloody mary for a sophisticated kick, or add a splash to your mixed drink of choice. Use as a glaze on meat, a marinade, a tonic, or sweet and spicy tomato vinaigrette.

Ingredients: organic heirloom tomatoes, vinegar, sugar, organic heirloom jalapeños
9.44 fl oz
SHAKE WELL BEFORE USING.
REFRIGERATE AFTER OPENING.